Animals help to heal the heart
We couldn't help but share this wonderful story published by Alberta Health Services about Jan Eaton and a visit from her horse "Prince" while she was in the ICU at the Peter Lougheed Centre earlier this year.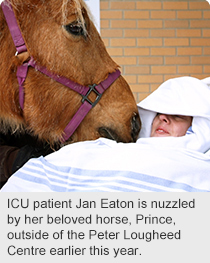 From the article:
"I was absolutely thrilled when I saw Prince's ears perk up as he saw me peeking out from under my blankets," Eaton says.
Be careful; the story might just melt your heart.  You can read the entire story here on Alberta Health Service's website.